Hyaluronic skin volume

KOSMAGIC | Hyaluronic skin volume
Hyaluronic skin volume

Hyaluronic acid and botulinum toxin work very differently. So please also consult our specialists to advise you on the wrinkle treatment best suited to your needs. Combination treatments often give the best results.
What is hyaluronic acid? It is an endogenous substance that occurs naturally in our cellular and connective tissue. Hyaluronic acid binds water, promotes the body's own collagen production and thus results in an aesthetic elasticity of the skin.
From the age of 30, the body's own production of hyaluronic acid decreases and, as is well-known, our skin loses moisture and thus elasticity. Hyaluronic acid is injected into your skin by our specially trained medical practitioners to make the skin look plump and smooth again. A so-called hyaluronic filler replaces tissue that has already broken down, compensates for the resulting loss of volume in the skin and thus specifically smoothens wrinkles from the inside.
With our hyaluronic acid treatments, we contribute significantly to the desired facial rejuvenation. Upper lip and nasolabial wrinkle reduction or targeted increase in volume in the cheek areas. In this way we contribute with our possibilities to make your appearance look fresher and younger.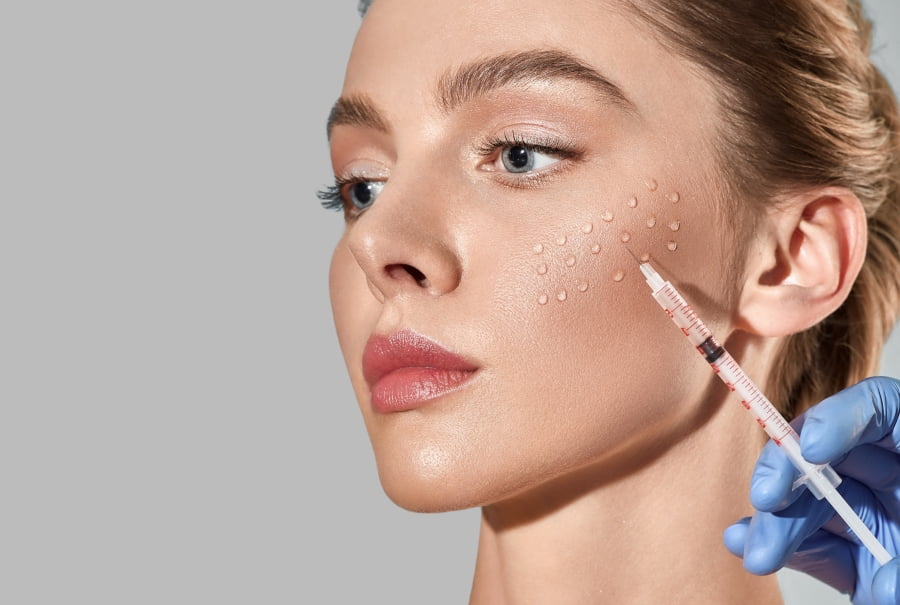 Your questions – our answers: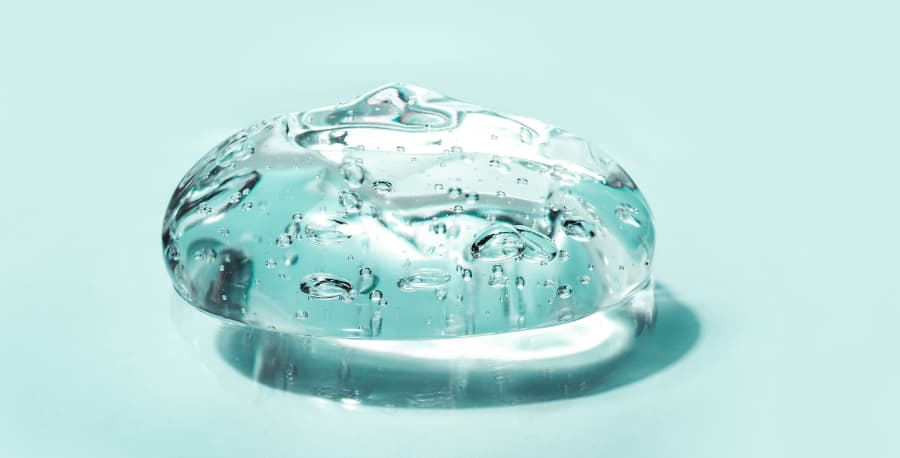 What is hyaluronic acid actually?

The chemical name of hyaluronic acid is hyaluronan. The transparent gels used, which contain small amounts of hyaluronan, are called 'dermal fillers'. They are used in liquefied form to build up the volume of the tissue in the desired areas. In this process, hyaluronan is a naturally occurring dual sugar that binds water and has the ability to induce tissue.
For which facial wrinkles is hyaluronic acid used?

Hyaluronic acid cannot work magic either. It is a very universally applicable dermal filler that is also used, for example, in larger areas of wrinkle treatment, for facial shaping or for injecting individual wrinkles. Upper lip wrinkles, chin changes and cheek filling are typical applications from aesthetic medicine.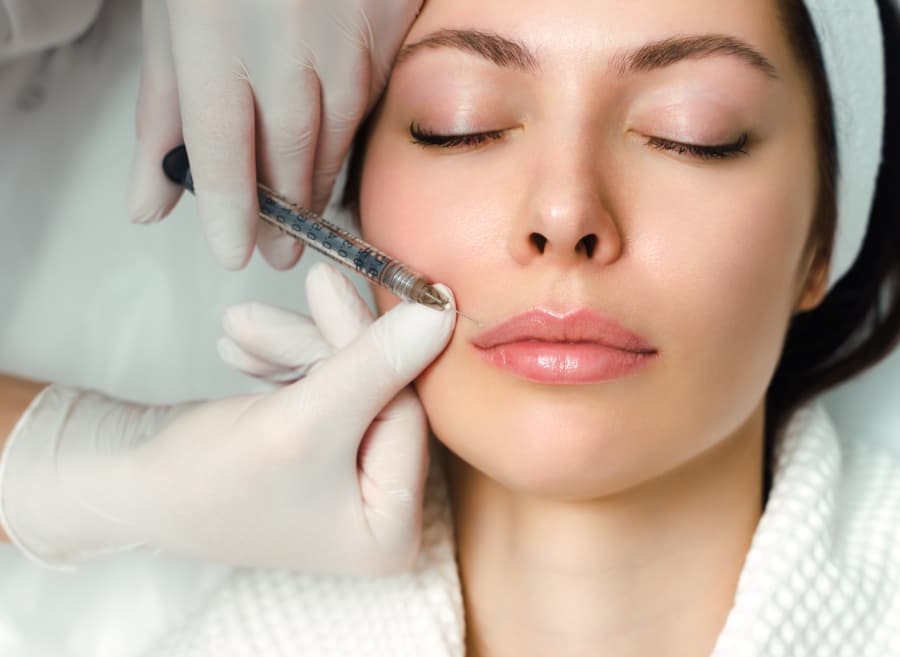 What does a hyaluronic acid treatment look like?

In our treatments with hyaluronic acid, we work with special injection cannulas that are used to reach the deeper layers of the skin or to fill the subcutaneous fatty tissue. The gel is effective for a long time, builds up accordingly and is therefore suitable as a filler for certain tissue defects and for facial modelling. We can inject, lift and stabilise individual wrinkles. If we are talking about many wrinkles or also the so-called creases of an aged skin, our specialists will advise you with which strategy, areal or punctual, you will be treated with hyaluronic acid. With an appropriate approach, a stable state of skin rejuvenation can be achieved.
How does hyaluronic acid work?

The dermal filler is not a magic bullet. You should definitely discuss your expectations with our specialists before starting treatment.
Stabilised and cross-linked hyaluronic acid is used in our treatments to achieve the desired effect. In contrast, natural liquid hyaluronic acid usually degrades within a day. Depending on the product used, we are talking about degradation times that can last up to several months. However, the effects of wrinkle injections are usually visible for much longer due to the remaining connective tissue that is rich in collagen fibres.
We distinguish between fine-structured and highly stabilised, coarse-structured hyaluronic acid gel. If the skin is not yet too slack, e.g. wrinkles around the eyes are still fine, we work with fine-structured hyaluronic acid. Deep wrinkles, e.g. wrinkles at the corners of the mouth, require a different procedure. Here, highly stable, coarsely structured hyaluronic acid gel is used for padding.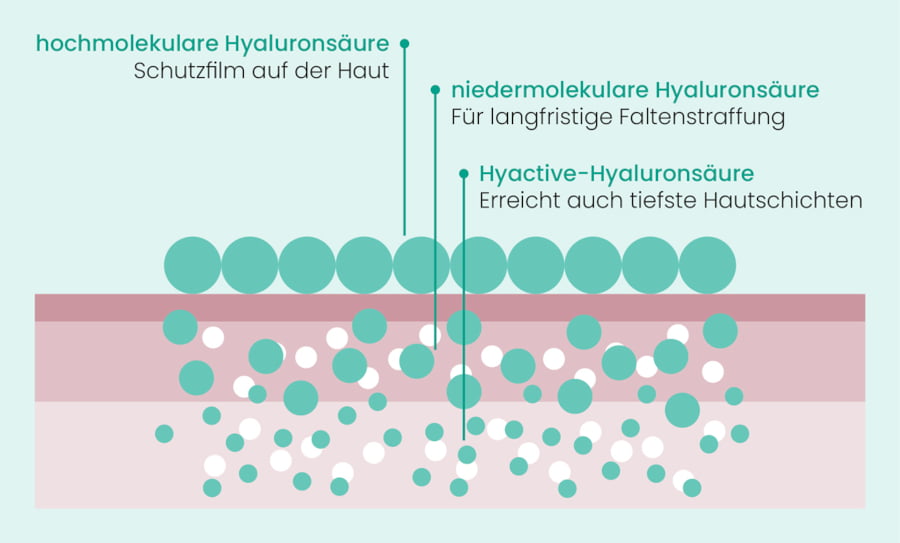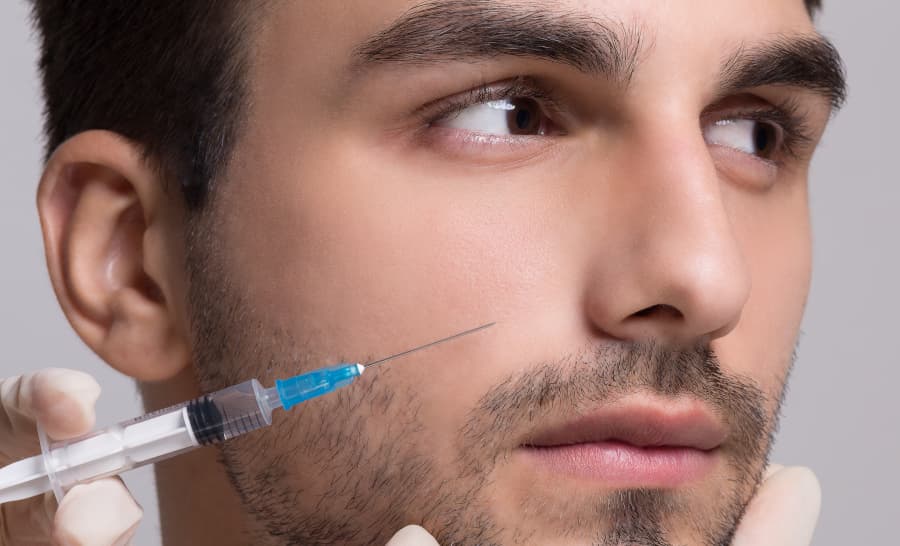 Do you have to expect pain during a treatment with hyaluronic acid?

We have the option of anaesthetising hyaluronic acid treatments, especially when it concerns pain-sensitive regions. We use anaesthetics based on injection solutions or use corresponding effective ointments. Depending on your very personal experience or sensitivity, you will be advised by our specialists.
How quickly can I see an effect of the treatment?

We recommend: Take a photo of your face before the first treatment. Time and again we notice that our clients quickly get used to the positive results of the treatments, forget the 'starting situation' and then do not look at the results objectively.
We can tell you: The effect of a hyaluronic acid treatment is always immediately visible. Due to occurring skin irritations, such as slight swellings, redness and rarely the smallest haematoma, it is realistic to speak of a target achievement and optimisation situation after about 2-3 weeks.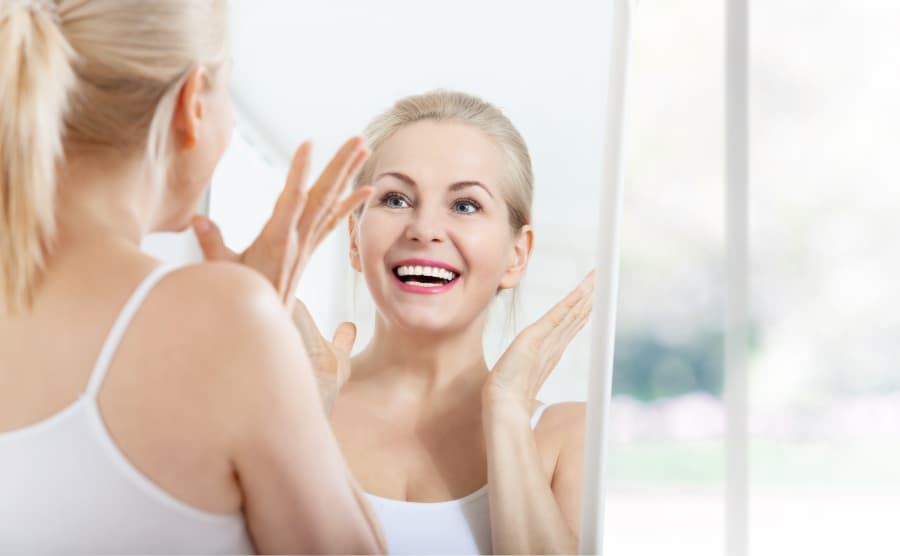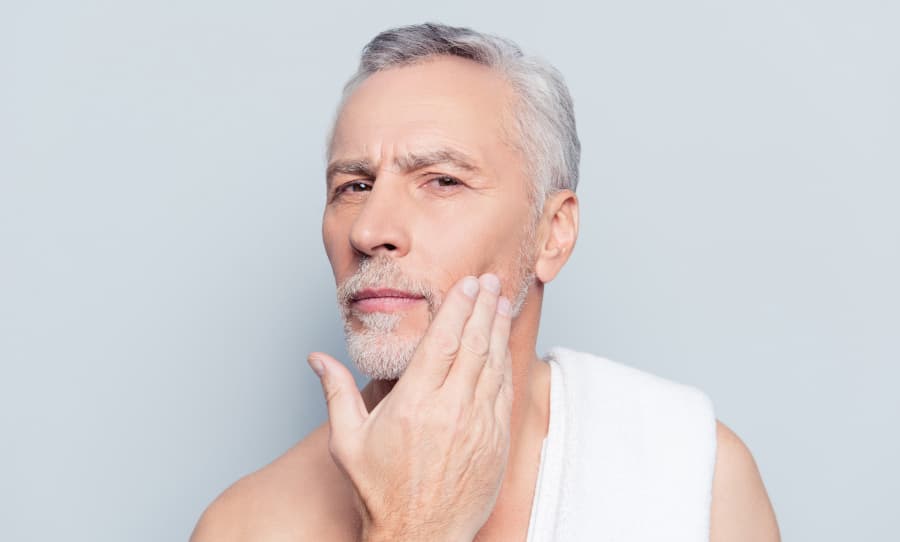 How long does the effect of the treatment last?

We lay the foundation for optimal consultation and treatment by our experienced specialists. Together with you, an optimal treatment strategy is determined so that the longest possible positive result is achieved.
Depending on the depth of the injected hyaluronic acid, the durability of the effect can vary. One generally speaks of a long-lasting effect when the hyaluronic acid is injected very superficially without causing undesirable but usually correctable side effects.
Hyaluronic acid products vary, so degradation usually takes place in three to twelve months. A positive duration of effect is also triggered by our experienced doctors through appropriately planned treatment time frames and through the regeneration of connective tissue rich in collagen fibres.
Should I expect side effects?

Most treatments are associated with few side effects. The water-hyaluronic acid binding can vary greatly, so there may be possible swelling after treatment. If the treatment is very extensive, large deposits of the gel are injected, an immune reaction of the body may occur. This can lead to encapsulation of the hyaluronic acid.
In rare cases, injection errors occur. It cannot be ruled out that smaller blood vessels are injured by the sharp cannulas. This can lead to the formation of haematomas. If circulatory disturbances occur, treatment should be carried out here.
Through experience and consultation, we strive to provide you with an optimal treatment result. If too much or too little hyaluronic acid is used, it can lead to a bulge or a translucent effect.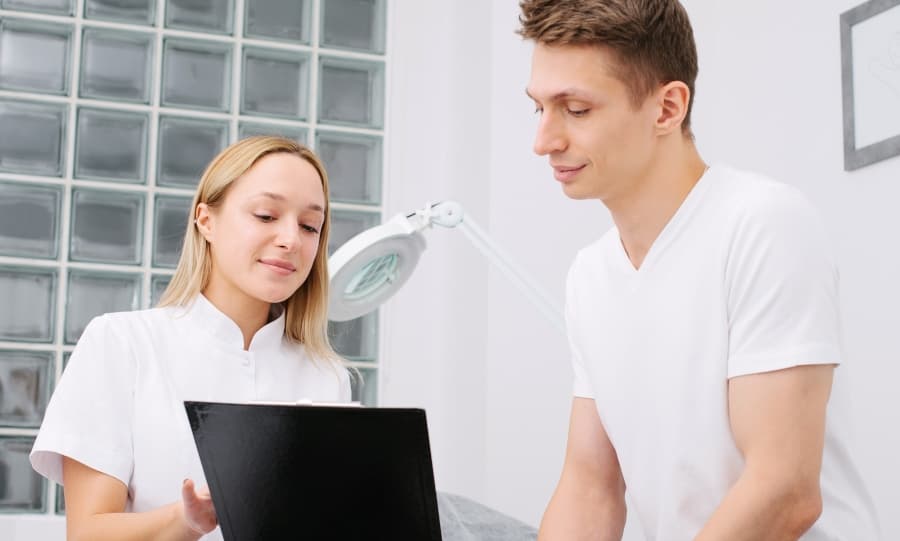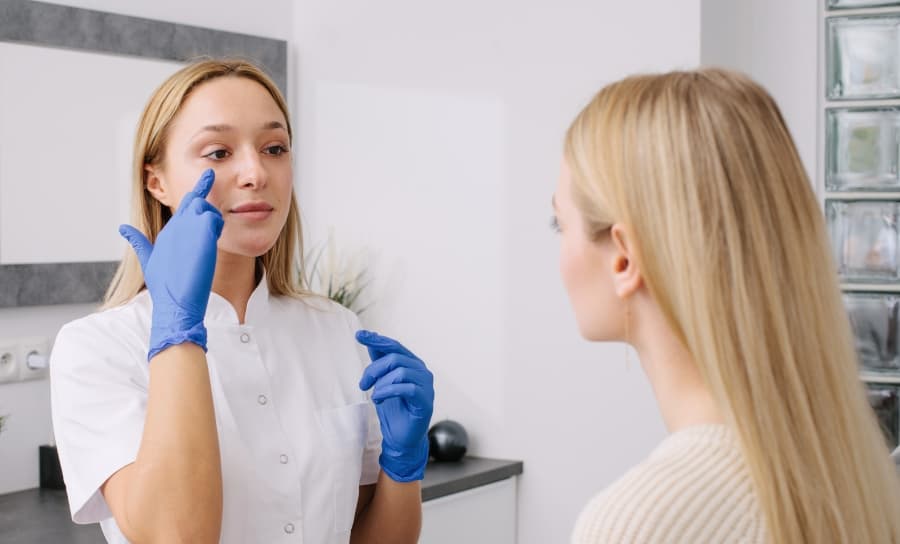 Do you find the professional qualification for your treatment with us?

We only work with experienced doctors and alternative practitioners. Only they are allowed to inject hyaluronic acid under the skin. Our aim is to accompany you and explain the advantages and disadvantages to you so that you can approach your own personal wishes with confidence. Feel free to talk to one of our KOSMAGIC branches without obligation.
What are the costs of a treatment with hyaluronic acid?

This question cannot be answered seriously at this point. The price depends, of course, on the volume used during the hyaluronic acid treatment, i.e. on the strategy of the treatment as well as the skin condition and other factors.
Basically, you have to be prepared to spend a few hundred euros to achieve optimal results, simply because stabilised hyaluronic acid is precious and expensive. However, it is also certain that, as a rule, you will receive a top result at a fair and marketable price with us through good advice and sensible treatment.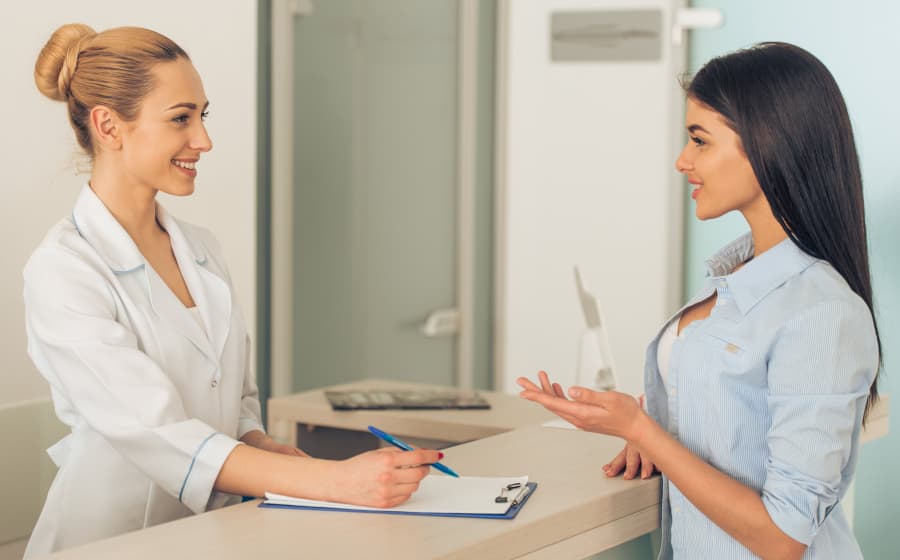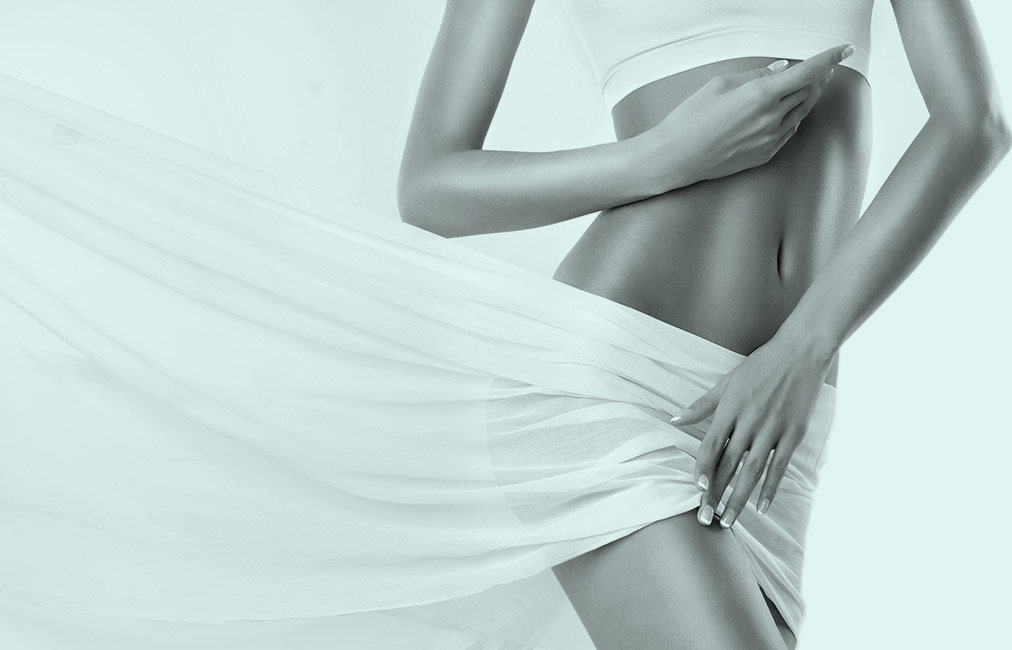 Kosmagic body treatments have several goals: redefinition of the body line or weight loss, detoxification, remineralisation, toning and anti-cellulite effect. Through our comprehensive approach and creation of an individual programme for each client, we achieve visible results.